About Us
Who we are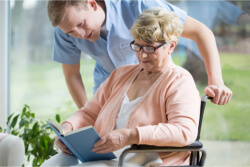 We have an enduring dedication to provide the highest standard of care to our clients and their families. It is our duty to deliver a comprehensive brand of service that serves all the needs of our physically and health challenged patients in the comforts of their own home. We seek to offer peace of mind to their loved ones, reassuring them that the people they care about are in extremely capable and competent hands with our team of dedicated care professionals. We believe that there is no better place than home which is why we seek to realize the full potential of care our clients are able to receive in this safe and familiar environment.
Our Team
Our team of highly skilled home health care professionals are incredibly passionate about our cause of helping the members of our community live happy and fulfilling lives in their homes. They have gone through extensive screening and meet all state requirements for background checks, training, and experience. Our health care professionals are required to undergo regular training and hands-on demonstrations in order to ensure they are kept up-to-date with industry requirements and standards. It is through preparing ourselves that we can be better equipped to serve patients and solidify our reputation as one of the leading home healthcare providers in our community.
Our Mission
We strive to provide a comprehensive brand of care that radiates throughout the entire home, giving hope and touching the lives of those we serve. It is our duty to deliver services that are in conformity with the law and the highest standard of ethics. We aim to preserve the dignity of our patients through exceptional care delivery that promotes independence and quality of life.
If you wish to know more about our agency and what we stand for, you may get in touch with us today. Give us a call at 352-227-1411 or send a message to administrator@abilitycareservices.com.