Companion Services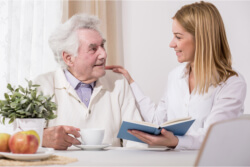 We provide high-quality companionship services that ensure the safety and security of the elderly and disabled. Individuals who are experiencing the challenges of health and old age are prone to putting themselves in dangerous situations. Loneliness, depression, and the possibility of falling is not something you would want to risk when it comes to anyone, let alone your loved ones.
Your elders need regular companions to talk to and share their experiences with. They need someone to watch over and take care of them at all hours of the day. Our caregivers are loyal and compassionate individuals whom you can trust with your loved one's care.
Reach out to us today and avail of our services. Give us a call at 352-227-1411 or send a message to administrator@abilitycareservices.com.